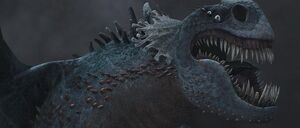 The Red Death is the main antagonist in "How to Train Your Dragon"
In How to Train Your Dragon the Red Death appears to be truly monstrous. It is the largest and most Powerful Dragon of all so it is able to easily overthrow and enslave the other dragons. In the Final Battle of How to Train Your Dragon, Toothless Shoots The Red Death's Mouth and He Falls into the island, He was killed and destroyed.
Ad blocker interference detected!
Wikia is a free-to-use site that makes money from advertising. We have a modified experience for viewers using ad blockers

Wikia is not accessible if you've made further modifications. Remove the custom ad blocker rule(s) and the page will load as expected.