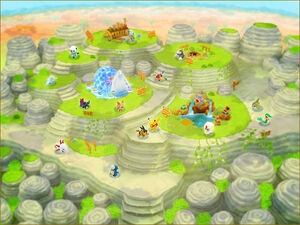 This article is not to be mistaken for the Pokemon Paradise of Condillion.
In Game
When you first enter the pokemon world in Pokemon Mystery Dungeon: Gates to Infinity you meet a pokemon of your choice, of which you proceed to help build a 'Pokemon Paradise;' Where all pokemon are welcome.
In Fanon
It is run by Seren the Snivy. Pix the Vulpix and Skit the skitty are pokemon of significance that live here.
Ad blocker interference detected!
Wikia is a free-to-use site that makes money from advertising. We have a modified experience for viewers using ad blockers

Wikia is not accessible if you've made further modifications. Remove the custom ad blocker rule(s) and the page will load as expected.