The Employee is picked by Dogkid1. The page is written by Rangetsu.
How We Choose
It takes scars, sweat, and perseverance to run a wiki. No one man or woman can run one alone. That's where admins and moderators come in. Together the pain is shared, and the wiki thrives. While everyone works hard, sometimes one shines above the rest, and this page serves to salute them.
This month's employee
Jimmy Walrus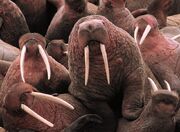 Gender: Male
Job: Chat Bot
Working since: The very second this wiki was created he jumped on board.
Jimmy, by far, works the hardest of anybody on this wiki - even surpassing Dogkid's work ethic. He's in the chat almost every day, despite the cold, harsh conditions he faces everyday living in a bungalow located in "Antartica" (shown below)
[image]
He writes down every word and every emoticon used in the chat, never having made an error, which is very impressive considering he has no thumbs...or fingers, for that matter.
Past Employees of the Month
October 2013 - Jimmy Walrus
November 2013 - Jimmy Walrus
December 2013 - Jimmy Walrus
Janurary 2014 - Jimmy Walrus
Februrary 2014 - Jimmy Walrus
March 2014 - Jimmy Walrus
April 2014 - Jimmy Walrus
5pxembed/DhlPAj38rHc1
Ad blocker interference detected!
Wikia is a free-to-use site that makes money from advertising. We have a modified experience for viewers using ad blockers

Wikia is not accessible if you've made further modifications. Remove the custom ad blocker rule(s) and the page will load as expected.