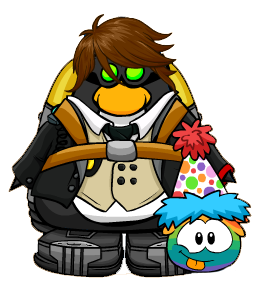 Agent Puffles, otherwise known as Agent 206, is the younger brother of Jet Pack Guy. He has become close friends with his sister-in-law, Dogkid1.
Strengths
Capable of controlling the 3 Card Jitsu elements.
Developed a new element called Plasma, but isn't fully capable of controlling it.
He has become an agile flier.
Fears/Weaknesses
He is afraid of running out of fuel in midair.
He has a scar near his stomach which is sensitive to attacks.
Puffles is scared of his wife getting hurt.
Aiming for his jet pack is a really good way of defeating him in battle.
Trivia
He was married before Jet Pack Guy.
He hates it when he's grounded. (His parents take away his jet pack then.)
Puffles really enjoys flying on his jet pack.
He had a fear of heights but over came it.
Ad blocker interference detected!
Wikia is a free-to-use site that makes money from advertising. We have a modified experience for viewers using ad blockers

Wikia is not accessible if you've made further modifications. Remove the custom ad blocker rule(s) and the page will load as expected.